'Penpal' Dating Sites*
Along with Penpal Passions (the site you are on now), the sites listed below all focus on connecting Penpal seeking singles with other singles interested in connecting and chatting online. The sites listed below range from those focused on 'Penpal dating' to others focused on 'Penpal chat'. The primary goal is to connect Penpals online though. Each site, regardless of the company running it, shares many of the same characteristics as many of the other sites. So, if you are looking for a great dating site focused on singles interested in being penpals with others, then there are quite a few here to choose from, so look through the ones below to find the one that seems like the best fit for you.
AD
UNITED STATES PEN PAL DATING SITES

US Military Penpals
Connect With Military Penpal Singles
Soldiers are away from friends and family for long periods of time and one of the many things that can brighten their days is the letters they get from home. U.S. Military Penpals is an online service designed to help connect men and women in the military with new friends. If you are interested in connecting with members of the military to brighten their days and surprise them with letters from afar, join and begin browsing the members interested in connecting online, or via written letters.
UNITED KINGDOM PEN PAL DATING SITES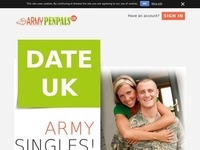 Army Penpals UK
Date Uk Army Singles!
"Days in the army can be long and hard, that is why we need a few warm words that can make those days bearable. Army Penpals UK is here to connect you with interesting people that are looking for new experiences, friendships and relationships. At Army Penpals UK all of these great connections arise from words written on paper or sent online."

Forces Penpals UK
Find UK Pen Pals and Connect
Join Forces Penpal UK and meet new people in the UK and around the world. If you are interested in making connections with people who enjoy writing, then this site may be the site for you. Enjoy interacting with a wide variety of people and connect via the site or by writing to one another. The first step is to register and after that, begin browsing the many members available and interested in connections.

Soldier Penpals UK
Find a UK Soldier Penpal Today!
Interested in being a 'pen pal' with a soldier in the UK? If so, then this is the site for you. Connect with UK Soldiers who are interested in connecting with singles online and via actual letters. While you may just make a new friend, who knows, if there is chemistry you may end up with more than a friend. The only way to know is to join.

Inmate Penpals UK
Connect With UK Inmates
Inmate Penpals is a singles site with a slightly different purpose than most singles sites. On Inmate Personals UK, members can browse listings of the many single inmates who are looking to make contact with other single people, whether they are also inmates or whether they are on the outside. While people meet online, it is up to each member as to whether they continue to communicate online or by writing letters (i.e. email or 'snail mail').
AUSTRALIA PEN PAL DATING SITES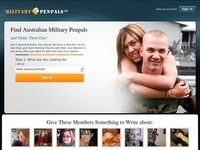 Military Penpals AU
Find Australian Military Penpals
Military Penpals AU has been created for anyone who needs some friendship, although the focus is on Australian military and Australian (non-military) civilians. What better way to connect than by exchanging your deepest thoughts on paper? Join today and find thousands of people to write with. Fellow soldiers or civilians ready to share experiences and offer a comforting word when needed.
AD
PEN PAL CHAT SITE

Pen Pal Chat City
Make New Friends at Penpal Chat City
Pen Pal almost seems like a quaint term these days considering so many people interact via the internet using email and Facetime and a whole host of online networks designed to help people connect. That being said, virtually every network or service has a specific focus and only a handful of sites seem to be designed specifically to connect people who are simply looking for a 'pen pal'. Of course, there is no 'pen' actually involved, but the concept is the same. If you are looking for someone to chat with online, Pen Pal Chat City could be the site for you.
*Sites listed on this page are a combination of ads, affiliate related Sites and general non-partnership related sites that match the theme of Pen Pal Passions.